FEMININE BOSS ACTIVATOR, MOTIVATIONAL SPEAKER & BUSINESS COACH HUDA HAMID PRESENTS
Attract your dream clients who

love what you do, honour your work

and

run to swipe their credit cards
Launch your business, market your products or services and cash in your first $10K income from business!
What if the business you DREAM of could become your ACTUAL REALITY?
You're stuck in your 9-5. You hate it and you're just waiting to leave your dreaded job, but YOU NEED A PLAN, pronto.
And that plan is not firing your boss, while you leave your family (or fur kids) starving.
The last thing you need is another course that teaches you just wayyyyy too much information that you cannot seem to implement or even apply in your business!
Unlock your fearless business potential and achieve your desired income
without the complicated tech, feeling like a soulless ghost, or feeling clueless to launch.
I need to show you something....
FATHIMA, DIGITAL MARKETER
"I get to work with my dream clients!"
"I left my toxic workplace and launched my art gallery!"
"I closed the launch with $17K!"
YOU CAUGHT THAT LAST ONE, RIGHT?
She collected $17K at launch, and I'm going to help you do the same.
Wouldn't it be amazing if you could:
Burn the belief of 9-5 until I die, and create time for pleasure and play that will have you

feeling refreshed and energized to do more of what you love

— while being divinely compensated for it.
Move from clueless to fearless, as you

activate your divine potential

and

design your potent

offer that leads your clients running to swipe their credit card!
Make more cash with more ease

while you discover how to get into alignment working part-time with fewer clients.
From 9 students, I now have 100 students in just 6-months!
Before this, I know nothing about starting a business. Through working with Huda, I launched my tuition center swiftly. From 9 students, I now have 100 students in just 6-months! Thanks, Huda for pushing me beyond my comfort zone!"
– YASMIN, TUITION CENTRE OWNER
I WAS ONCE WHERE YOU ARE RIGHT NOW...
That's when I decided to do things differently and everything changed.
WELL NOW YOU CAN!
INTRODUCING...
LAUNCH YOUR FIRST PROFIT-MAKING & PURPOSEFUL BUSINESS ONLINE
Shift your mindset from being an employee to

being the Fearless Fempreneur you are destined to be.

Differentiate yourself

in a competitive business landscape, rising above with a

winning business idea

Attract the right clientele suitable for your business, honours your worth and runs to swipe their card to work with you

Design, Price & Package a Signature Offer

that celebrates your worth

Create a brand and build authority online in your space through content & marketing
Launch your business online
in just 90-days
May started with just 100 followers and now she makes $5K/month
Following our proven 6Ms of Profitability, May strengthened her AUTHORITY & BRAND. She started marketing her business on Tiktok and got booked months and even years ahead for her maths tuition class.
HERE'S WHAT YOU'LL GET, GORGEOUS
FULL Profitable Fempreneur digital curriculum with
lifetime access upon graduation
Mindset & Idea
Shift your mindset from an employee to a Fearless Fempreneur you are destined to be.
Value your self, draw boundaries and have a Fearless Fempreneurs Mindset

Building a strong entrepreneurial mindset
Mission & Message
Differentiate yourself in a competitive business landscape, rising above with a winning business idea
How to generate a Winning Business Idea
Setting Realistic Goals you'll achieve for your next 90-days
Magnetic Client Attraction
Attract the right clientele suitable for your business, honours your worth and runs to swipe their card to work with you
Attract the right clientele suitable for your business, honours your worth and runs to swipe their credit cards to work with you
Magnetically attract money & wealth into your life from beginning
Money Making Machine
Design, Price & Package a Signature Offer that celebrates your worth
How to design a Signature Offer celebrates your worth
How to Price Your Signature Offer and apply pricing strategies to attract clients
Marketing & Branding
Create a brand that attracts your ideal clients and build authority in your space through content & marketing
How to design a brand that attract your dream team to work with you and your ideal clients to hire you
How to design a simple landing page and convert your audience to dream clients
Create content that converts for your signature offer
Momentum & Launch
Launch your business 100% online in 90-days and gain the momentum to become a Fearless Fempreneur!
How to build buzz and maximize sales for your new product or service
How to systematically repeat the momentum for your business
Systematically fire your boss without burning any bridges
Shift your mindset to think like a boss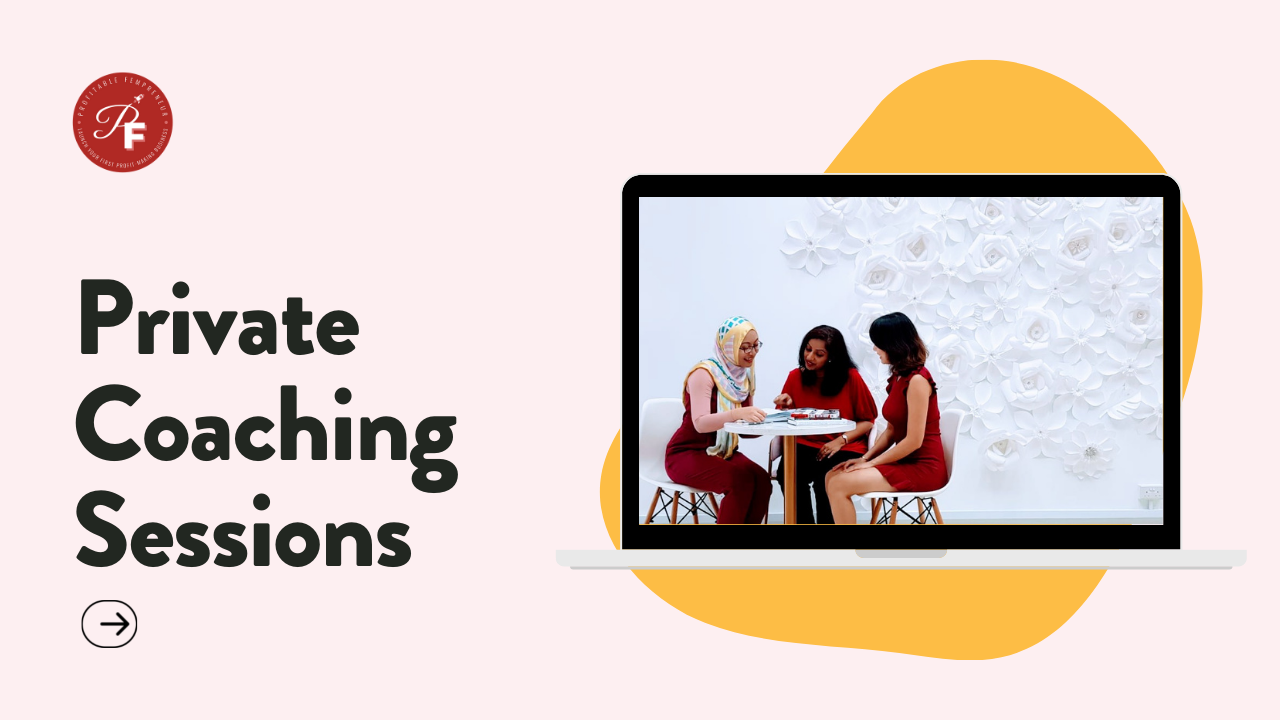 Private 1:1 Coaching Calls with Huda
6 x 30-minute private 1:1 coaching calls to grow your business faster with guided support.
Value: $6,000
Group Coaching Sessions
6 x 60-minute live group coaching calls, happening once a month to review the modules.
Value: $6,000
Office Hour Audio Telegram Support
Need urgent guidance? Record an audio message, and we will respond during office hours!
Value: $1,000
and get all Replays from the Group Coaching Sessions!
Adilah
went from undervaluing her worth and selling her services at $800 each to

$2,000 per client!
SYAIRAH, SCIENCE INSTRUCTOR
Syairah
went from an idea to earning her first

$1,000 income in 1 week

of the program!
THIS 6-MONTH TRANSFORMATIONAL JOURNEY THAT INCLUDES
6 x Fearless Modules in the Profitable Fempreneur digital curriculum with lifetime access (VALUE $6,000)
6 x 30-min Private 1:1 Strategy Call with Huda (VALUE: $6,000)
6 x Group Coaching over 6-months

(VALUE $6,000)

Office Hour Telegram Support

(VALUE: $1,000)
BONUS

: Start the Ideal Venture Module

(VALUE $1,000)

BONUS

: 50+ Business Ideas Cheatsheet

(VALUE $297)

BONUS

: The Art of Firing Your Boss E-Book

(VALUE $200)
We'll go through this together
You'll start in 7 days from the point of enrollment and be given some materials to start with
We'll go through a total of 9 weeks together; and 3 weeks of implementation together
Once you've launched your business, you continue on to register your business with our guidance!
SYURA, BEAUTY BUSINESS OWNER
"Before working with Huda, I was restless and lacked confidence. I didn't know how to become an entrepreneur. Huda showed me the way which led me to launch my own beauty brand online!"
RENEE, CUSTOMER SERVICE TRAINER
"This is an amazing & power-packed program! The topics are on point and delivered very clearly. For someone that has not try marketing, you piqued my interest about it! Thank you - this is just what I needed!"
why work with me?
I'm Huda Hamid
FEMININE BOSS ACTIVATOR, MOTIVATIONAL SPEAKER & INTUITIVE BUSINESS COACH
If you're like most wannabe entrepreneurs, you have huge dreams for your business, yet you have no clue on how you can get started. You see a fellow entrepreneur living your dream life, and have this sinking feeling that they can achieve that dream life because they have something you don't, or that you are just not good enough?
Truth bomb time! If you were meant to do it on your own, you would have done it by now. It's time to invest in yourself and your business, so you can see it THRIVE to FEARLESS SUCCESS!
This is an invitation to completely skip the painful mistakes and 10,000 hours of investment it would take to achieve mastery and learn from someone who knows the path. Why not give yourself permission to activate your fearless potential, honour your worth and launch your dream business — all while skipping the unnecessary struggle?
Here's how I am different from other coaches out there
NOT EVERY COACH:
have 10+ years of proven experience in digital marketing, content creation and launching multiple businesses online

can break down business concepts into easy to understand, step-by-step systems for quick application to your business

is foxy and knowledgeable in branding, marketing, copywriting and business

an idea-generating Queen with a heart for the world

is a sage guide to keep your family fed and your bills paid while you pursue your dreams
I've been featured in...
Frequently Asked Questions
What is the Profitable Fempreneur Program?
Is this a group coaching or course?
Are there any additional or hidden costs?
What happens after I checkout?
Can I pay in my currency?
I'm ready to invest! How do I pay?
The future is in your hands.
Launch your first profit-making business today!
Together, we will work on your minds and break those walls of fear that you've built over the years and prune those seeds of doubt you've let grow in your minds for years.
Together with my team of talented Queens, and the Fearless Fempreneurs we've partnered with, you will attract your dream clients, define your superpower, and ascend your brand to activate your fearless potential.
APPLY NOW